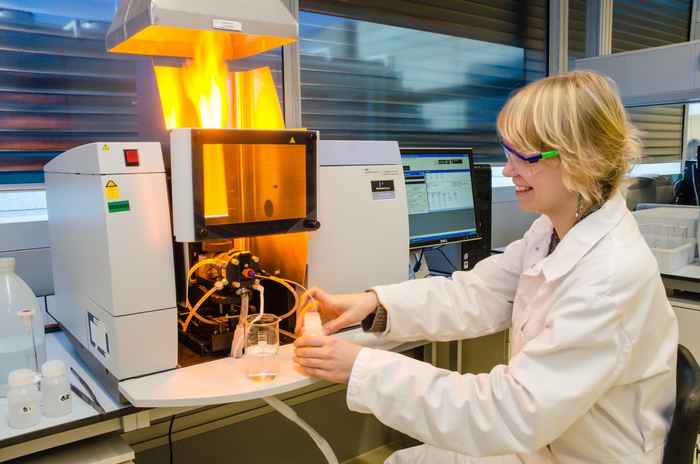 The soil and environmental chemistry laboratories include state-of-the-art facilities to study the partitioning, transport and transformation of substances in the environment as well as facilities to develop new methodologies for research.
Available equipment to determine the (in)organic composition of soils and water includes ICP-OES for the identification and quantification of (trace) metals, a segmented flow analyzer for the detection of anions such as nitrates and phosphates, and Elemental and TOC analyzers to quantify organic substances (C, H, N, O) in solid and liquid samples. In relation to this, we have facilities for soil texture analysis, soil physical properties, as well as several selective extraction methods.
The composition of natural and anthropogenic organic substances can be further identified and quantified in our well-equipped chromatography lab that includes GC-MS, pyrolysis-GC-MS, LC-MS and LC-MS/MS. Furthermore, isotope ratio mass spectrometer (IRMS) is available for the analysis of stable isotopes (13C, 15N, 2H, 18O) in solid, liquid, gaseous samples and to allow for compound specific isotopic measurements by GC-IRMS.
Transformations of organic matter can be studied in detail with our RESPICOND respiration measurement facilities, as well as our glovebox that allows studies under anoxic conditions. In addition, concentrations of trace gases (CO2, CH4, N2O) can by quantified by GC.
Sample preparation facilities include a variety of extraction methods including microwave, solid-phase (SPE) and accelerated solvent extraction (ASE), as well as a range of selective extraction methods for metals and organic substances.
Examples of research conducted in the laboratory include:
the study of the molecular dynamics of organic matter transformations in soils to elucidate the role of soils in the global carbon cycle,

the presence and functioning of signalling chemicals in soils to study the interactions between above and belowground biodiversity,
the fate of anthropogenic substances in soil, sediment and water such as flame retardants, antibiotics, surfactants and polyfluorinated compounds,
biogeochemical cycling of elements (C, N, P) in soils and waters.
The labs provide services to all IBED themes and to colleagues from other institutes and organizations within and outside the UvA.
Contact information
Please contact us for more information: IBED-lab-science@uva.nl
Dr. E. (Eva) de Rijke
Faculty of Science
Institute for Biodiversity and Ecosystem Dynamics